Michaela Muhr

Join us on a new adventure by bike … Traveling means getting to know places better, learning about history, visiting famous sights, interacting with locals, listening to music, exploring the landscape, experiencing traditions and tasting local food.
After professional experiences in the USA and all over Europe, I decided to discover and experience Salzburg with you. My mission is to show every guest the unique side of Salzburg and its surroundings, so that the trip becomes an unforgettable stay.
Since 2010 I'm a licenced Austria Guide and I love to bring to life the landscapes, districts, museums and monuments through history. Above all, I love to taste culinary delicacies, such as our Salzburger Nockerln and I want to share these 'Salzburg experiences' with you.
Let me show you Salzburg – so that you can enjoy unforgettable moments.
Astrid Zehentmayer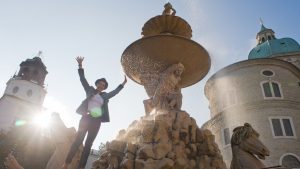 WILLKOMMEN – welcome: I grew up in a nice town named Golling (20 minutes drive from Salzburg), my passion is travelling, I like sports (biking, hiking, golf and especially skiing in winter) … and I love good food & the famous Austrian wine. I have a university degree in Business Administration and after some experiences abroad I've worked for an event & incentive agency. Since 2010 I am a licenced Austria Guide, I speak 4 foreign languages (E, I, ES, F). I've been living in Salzburg for 25 years with my wonderful husband and our 3 kids and I think Salzburg is a perfect place! I still discover new perspectives of this beautiful city as it offers a wide range of culture, music, culinary specialities, nature and history!
Let me share with you a piece of my "Salzburgforyou".
Christian Laserer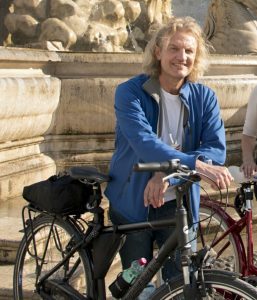 Welcome… … to one of the most beautiful cities in the world !
As a native of Salzburg I should like to welcome you in this way, and I´m sure you`ll agree after our tour. Let´s stroll along the gorgeous Mirabell Garden on the trails of the " von Trapp Family" and see the famous "do-re-mi" steps. In one of the numberous pleasant coffee houses you`ll enjoy the "Mozart chocolate" and other delicious local pastries. Also the surroundings are worth visiting – close to Salzburg I´ll show you an earthly paradise: crystal clear mountain lakes, steep cliffs, green hills and picturesque towns and villages – the "Salzkammergut Lake District"!
I´m looking forward to making your Salzburg visit a special one !