Michaela Muhr

Ich bin ein viel gereister Salzburg-Fan, bin Kunst und Kultur interessiert, eine Genießerin einheimischer Speisen und Weine, liebe die Natur und freue mich, wenn ich SIE für die Schönheit Österreichs begeistern kann. Aus ganzem Stolz zähle ich mich zu den staatlich geprüften Fremdenführerinnen der Austria Guides und führe nun schon seit 7 Jahren Besucher aus aller Welt durch das schöne Bundesland Salzburg. Ursprünglich komme ich aus der grünen Steiermark, aber mein Studium für Innenarchitektur und die Arbeit als Reiseleiterin und Incoming Operator in der Tourismus Branche führten mich zuerst für fast zwei Jahrzehnte nach Amsterdam, NL, New York City und Los Angeles, USA. Seit 1997 ist Salzburg die neue Heimat von mir, meinem Mann und unseren beiden Töchtern geworden! Hier genießen wir das Wechselspiel von Natur und Kultur sowie das internationale Flair der Stadt. Spontanität, Kreativität und Kundenfocus prägten mich in meinen Berufsjahren. Diese Erfahrungen gebe ich gerne weiter, um Ihnen als Ihre Reiseleiterin eine außergewöhnliche Salzburg "experience" zu gönnen.
Astrid Zehentmayer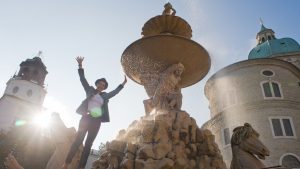 I grew up in a nice town called "Golling-city" (approx. 20 km drive from the city of Salzburg), my passion is travelling … and for living Salzburg is a perfect place! My first plan was to become a Stewardess travelling around the whole world! But somehow I have changed this flight in order to register at the University for Economics and to finally land in an agency for incentives & events. In the meantime I have a wonderful husband & 3 kids and I am ready again for "take off" … since 2010 I am a licenced Austria Guide. I speak 4 foreign languages (E, I, ES, F) … and I think I am talented in organizing. Salzburg is a wonderful place to live and it offers a wide range of culture, music, culinary specialities, nature and history! Again and again I discover new perspectives … and I want you to share with me a piece of my "Salzburgforyou".
Christian Laserer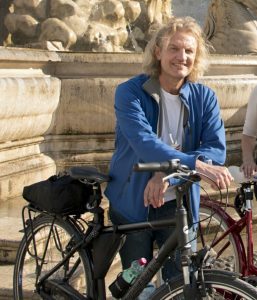 Welcome… … to one of the most beautiful cities in the world ! As a native of Salzburg I should like to welcome you in this way, and I´m sure you`ll agree after our tour. Let´s stroll along the gorgeous Mirabell Garden on the trails of the " von Trapp Family" and see the famous "do-re-mi" steps. In one of the numberous pleasant coffee houses you`ll enjoy the "Mozart chocolate" and other delicious local pastries. Also the surroundings are worth visiting – close to Salzburg I´ll show you an earthly paradise: crystal clear mountain lakes, steep cliffs, green hills and picturesque towns and villages – the "Salzkammergut Lake District"! I´m looking forward to making your Salzburg visit a special one !